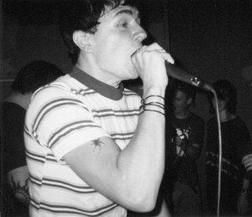 After School Knife Fight was a band from Kamloops, BC that emerged upon the scene in 2000. The band consisted of:
Jacen Beers: Vocals Kevin Smart: Guitar and backup vocals Conor Conley: Drums Brandon Velestuk: Guitar John Bennett: Bass
ASKF put out a self-released EP entitled, "Jousting with the Intent of Hurting People" in 2001. They broke up shortly after recording and playing their last show in January of 2002.There are many rumors surrounding the cause of disbanding, but most hearsay involves the fact that Jacen, being as hot as he is, was continually mauled by screaming fans during their shows, making it impossible for the band to play and ultimately leading to their demise.
Jacen and Kevin went on to play in a short lived project called Our Last Days As Children, after ASKF broke up, and released a split 7" with Droom. Kevin went on to do vocals for Cold Dead Hands and guitar for Aim For the Head. Jacen, however, has remained out of sight, most likely due to the aforementioned maulings.
Conor and Brandon went on to play in Harbor after ASKF broke up.
Releases:
Jousting With the Intent of Hurting People [2001]:http://www.mediafire.com/download.php?6n1dz1n7du9d47y