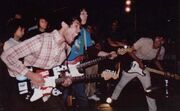 I Wrote Haikus About Cannibalism In Your Yearbook (iwrotehaikusaboutcannibalisminyouryearbook) was a screamo band from Antioch, California, USA. Members are Freddie, Daniel, Trei and Steve. The discography LP has been released by Discos Huelga in 2010.

Freddie and Daniel went on to start Punch. Freddie was also in ...Who Calls So Loud. Trei is now in Beau Navire.

The music is feelings and the words are thinking too much and out loud.
Releases:
8 Song Demo:http://www.mediafire.com/?qict0l5c6lbtinf
Self Titled:http://www.mediafire.com/?0sa4c5x7h04ad0m